RPA. Artificial Intelligence. Natural Language Processing. Machine Learning.
Other than a bunch of buzzy, nerdy acronyms, these terms all have one common denominator: robots.
In our world hyper-focused on digital transformation, we read about them, hear about them, and use them every day. (Think Siri, Alexa, and Google Maps.)
The Facts
Robotic Process Automation, or commonly known as RPA, has significantly increased over the last several years. And the pandemic definitely contributed a higher demand for it and motivated organizations to rethink how they manage work, particularly repetitive, menial tasks.
Needless to say RPA and automation isn't going away anytime soon… In fact, according, Deloitte has previously projected that RPA will hit nearly universal adoption in the business world at some point in 2023.
Robots At Work: A Personal, Real-Life Example
As a project manager, writer, and editor, I think about how to best automate processes, write and edit articles on RPA and AI on a pretty regular basis. However, in my daily personal life as a consumer, I started paying closer attention to my daily interactions with robots.
During the 2020 holiday season, I did about 85 percent of my holiday shopping online (like the rest of the world). I ordered a beautiful flatware set for my brother from Amazon. After receiving the "Your order has been delivered!" email, I took a ride to our town's local post office to pick up the package. I checked our PO box, no package. I inquired with the post office man, no package. I even drove back to the house and checked on the porch and surrounding area, just in case I missed it—no package. So, I thought, maybe there's some mistake. Maybe it will arrive soon.
Several days later, the package still had not arrived. As a sister, I was nervous as my brother's gift still had not arrived, and Christmas was less than a week away. As a consumer, I was frustrated and concerned. A product I had paid for had not arrived in the timeframe promised to me.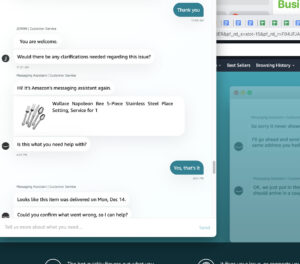 I logged into my Amazon Prime account and queued up an online chat window. Within seconds, an "Amazon Assistant" greeted me, with a first name ("Jerrin"), immediately showing me a screenshot of the order number and product I was inquiring about, and asking me if I was inquiring about the exact order. The Amazon Assistant then gave me a few options related to my issue that I could choose to respond with.
I answered several more of "Jerrin's" questions, indicating that the package never arrived. "Jerrin" then gave me the option to receive a refund as a credit to my Amazon Prime account or to the MasterCard that I used to make the purchase. Because I used Amazon Prime pretty regularly, I opted for a credit to my Prime account.
As you will see from the time stamp in my screenshot, the whole exchange with "Jerrin" from start to finish took less than 60 seconds, and involved interacting with a robot the entire time.
No calling customer service. No waiting on hold. No getting disconnected. No frustration. No hassles.
This, my friends, is robots at work, and the future.
Automation Myths: Debunked!
So, how do you leverage robots and automation in your own business? (I mean, that is why you are reading this blog in the first place, right?) The truth is that there are a number of myths surrounding automation. Here are some of the most common:
You need a developer to build and code automations.
You have to use a multitude of systems or a huge tech stack to properly leverage automation.
Automation is only for large enterprises.
Robots are going to take over our jobs
Now, let's talk truth: 20 percent of organizations who use process automation report at least 15 percent cost savings. And half of those implementing new automated workflow strategies see significant improvement in their overall systems within three to five years.
Automation is a huge blessing, as it leads to increased productivity, lower operating costs, better time management, and faster ROI. That is if you know how to make the most of it.
How to Automate Your Processes and Workflows
You have likely already identified a need or an opportunity to automate your own processes, systems, and workflows. However, in our experience—and studies have also shown—that many businesses, agencies, and startups aren't sure how to approach setting up and automating processes and workflows.
If you're trying to decide if, when, and what to automate, here is a good place to start: Start by writing down or taking note of any existing processes that have gaps or weak areas.
If you aren't sure, start by taking some time to ask yourself these questions:  
What are your top 3 priority tasks each day?

What are the things I do every day that I dislike? (Tip: Focus on any task(s) that can be defined as "shallow work", i.e. answering emails, phone calls, processing invoices, sending files, assigning tasks, etc.)

Which processes take up the most of your time?

 

What would an ideal workflow look like? 
How do you currently measure success?
What would you need to better position yourself or your team to achieving that success?
Now that you've had some time to think through those questions, take it one step further. Choose a task, process or activity that you'd like to automate. Then follow these steps:
1. Define and document your existing process.
2. Identify your process requirements.
3. Identify which area(s) of your existing process you need or want to automate. 
4. Determine who will perform the work.
5. Identify your key performance indicators (KPIs).
Furthermore, an article published by Forbes uses the "4 P's" to help identify and concept opportunities for automation.
Boost Your Success with Process Management Automation
Believe it or not, automating your processes is within reach. It doesn't require expensive development work or a ton of coding. There are a number of basic project management software, tools, and applications that all have built-in automation capabilities. And if they don't, you can use a third-party tool, such as Zapier to help connect the dots between applications.
At Jaguar Business Solutions, we consult with many clients on workflow design, process development, and process improvement. A lot of work involves automating those processes. We believe in helping teams to operate more efficiently, boost their bottom line, and better serve their clients.
Successful automation practices require quality data and human capital to succeed and drive business results. Work with an experienced and talented consultant to help you craft automated business processes with the tools already in your toolbox.